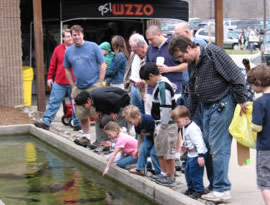 A sure sign of spring...
Don't forget that the annual Pequest Open House and Fishing Flea Market is this weekend -March 31 & April 1, 2012 from 10 a.m. - 4 p.m. daily - and it is FREE.
This is the time when Pequest Trout Hatchery and Natural Resource Education Center
http://www.nj.gov/dep/fgw/pequest.htm
opens its door wider than usual to allow the public to experience a lot of NJ's fish and wildlife. This annual event usually takes place the weekend before Trout Season opens.
The Open House allows the Division of Fish and Wildlife to show off the trout raised at the state of the art Pequest Trout Hatchery and it serves as a reminder that spring is just around the corner.
Each year, thousands of people come to the hatchery to experience this event for themselves. This event is great for people of all ages and there are so many things to see and do throughout the day.
Directions to Pequest
Kids
between the ages of 8 and 16 can try their hand at trout fishing before the season opens in our Fishing Education Pond. They will be given expert instruction by our staff,
Wildlife Conservation Corps
volunteers and volunteers from Trout Unlimited. Kids under 8 can try catching one of our trout in the "Kiddie Fishing Tank". And the best part is - we supply all the equipment! Displays will be set up about fisheries management, aquatic insects and much more.
In the fields along our roadway, we'll have our beginner
archery and shotgun ranges
set up. For those experts out there, we'll also have our 3-D archery course set up in the woods, offering you many nice shots at some of New Jersey's huntable wildlife targets in realistic situations. You will need to bring your own archery equipment for this course.
Peruse the flea market for fishing deals
Inside the Natural Resource Education Center
, visit with representatives from various conservation groups and learn how they are helping to protect our natural resources. There will also be ongoing fly tying demonstrations and many different wildlife artists, carvers and taxidermists will be here with their artwork and equipment for sale.
Don't forget to look inside the Exhibit Hall and learn about the history of Pequest and what we do here. For even more information about the hatchery, don't forget to take the self-guided tour of the facility, where everything will be in full swing in anticipation of the upcoming trout season.
Just outside the main building, our
Fishing Flea Market
is sure to offer some good deals on both new and used equipment, lures, gear and so much more! So if you're looking to upgrade your fishing equipment or if you're just starting out, you'll want to check out the vendors here. Be sure you stop by the giant mobile aquarium located just outside the main building for a look at some of New Jersey's fish.
There will be food vendors on hand at the event or you can bring your own lunch and enjoy one of our 3 picnic areas nestled in the heart of the Pequest Valley.
Displays and exhibits await indoors
For more information on public or group visitation/programs call 908-637-4125 or see the
on-line schedule
of public programs.
Open House Flyer
(pdf, 62kb)