Buttermilk Falls
New Jersey probably is not the first place one thinks of to find waterfalls. The Garden State has about
30 waterfalls
of them that are found in the Kittatinny Ridge (northwest), the north-central Highlands, and the Piedmont of the central part of the state.
Almost all of them are on public lands and so are accessible to visitors and many of them offer surrounding lands suitable for a walk or hike.
NJhiking.com
has a number of hikes that feature waterfalls.
Buttermilk Falls
in Sussex County tops out at 80-90 feet and cascades spectacularly down the red shale face of the Kittatinny Ridge. It is the only waterfall in New Jersey, apart from
Paterson's Great Falls
, with a developed viewing area created by the National Park Service. There is an interpretive display and wooden walkway to the top.
Buttermilk Falls is in the Delaware Water Gap National Recreation Area, alongside a gravel road south of Walpack Center. The Park Service does not advertise Buttermilk Falls, keeping the location a pleasant surprise.
Coppermines Trail has several pretty cascades. Norvin Green State Park has Chikahoki Falls and the Apshawa Preserve has some nice cascades on Apshawa Brook.
Hacklebarney State Park has multiple cascades along the Black River in an easily accessible park.
The Pocono Enviromental Center has a nice shady hike through a hemlock forest with several waterfalls.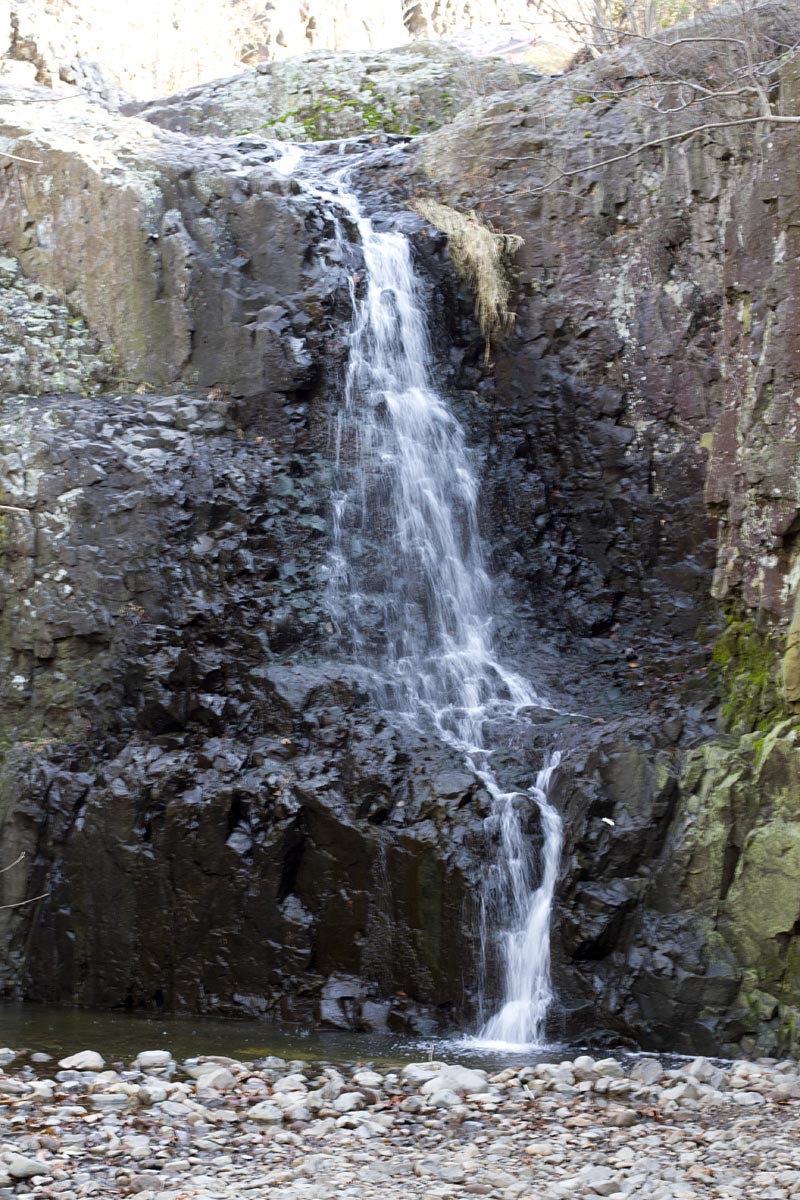 Hemlock Falls
As a young boy, South Mountain Reservation in Essex County was my local forest and I made many a hike, bike ride and lunch stop in the woods.
The landscape and trails are moderate and somewhat rocky and you're never that far from roads and development. It is a bit harder to escape the traffic noise as some of those northwestern NJ trails. It's suburban.
At the eastern edge is the view from Washington Rock where a signal beacon warned the General and his Army at Morristown that the British Army were approaching.
My favorite destination was probably Hemlock Falls and walking along the Rahway River (white trail markers). You could also walk part of the 40-mile Lenape Trail (Yellow trail markers) that uses some of South Mountain. There is a nice
hike of about 6 miles that will include Hemlock Falls
.
If waterfalls are something you'd like to explore, your best bet in books for our area is
Waterfalls of the Mid-Atlantic States: 200 Falls in Maryland, New Jersey, and Pennysylvania