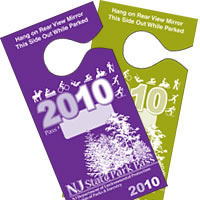 The annual New Jersey State Park Pass hangtag is available for $50, and provides free entrance for one calendar year to the parks and forests facilities that charge daily walk-in or parking fees.
If you are a frequent visitor to the state parks, the purchase of the annual pass can mean a substantial savings over the payment of daily walk-in or parking fees. A second household pass hangtag may be purchased at a reduced price of $25. The second household pass must be purchased at the same time as the first pass purchase.
NJ's state parks and forests are open and beautiful in winter too.
Kittatinny Valley State Park is an example of one that offers
cold-weather activities, including hikes and wildlife tracking.
Kittatinny Valley State Park is located near Andover, New Jersey.
There are over eight miles (13 km) of rugged mountain bike trails available.
The 20-mile (32 km) Sussex Branch Trail passes through swamps, lakes, fields and several communities. Many features from its previous existence as a railroad can be exhibited. Among those features are graded fill areas, cuts through bedrock, underpasses that allowed the passage of farm equipment and dairy cattle from one side of the tracks to the other, and bridges crossing the Pequest River or Paulins Kill. The flat cinder base of the trail permits multiple uses including hiking, horseback riding, biking, cross-country skiing and dog sledding. The trail provides access for fishing and for wheelchairs in certain areas. The Sussex Branch Trail also crosses through Allamuchy Mountain State Park.
Kittatinny Valley State Park map (PDF)
---
New Jersey residents who are age 62 or older or who are disabled may be eligible for a Senior Citizen Pass or Disability Pass, which grants free entrance to the parks and discounted camping rates. An application form is not necessary if you purchase your pass in-person.