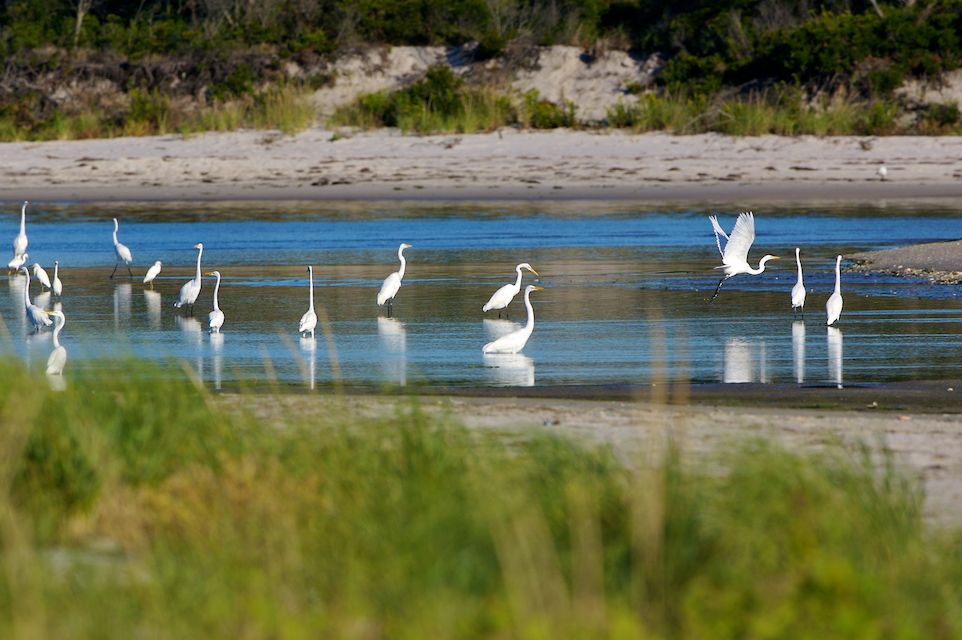 Island Beach State Park is one of New Jersey's most popular parks, a picturesque strand of coastline visited by a million people each year. A vast majority visit in the summer, drawn to beaches that offer a more natural experience than can be experienced anywhere in New Jersey.
But the season doesn't end with Labor Day. During the Jersey Shore's "second season" at Island Beach offers surf fishing for stripers at sunrise, intimate kayak explorations of Sedge Island on Barnegat Bay, crabbing and clamming along quiet coves, tiny shorebirds searching for morsels along the surf line, the wonders of a child learning about barrier island ecosystems from a park naturalist – can be enjoyed all summer long, or long after the crowds have gone.
Stretching for nearly ten miles of Ocean County, the 3,000-acre park protects the last significant stretch of undeveloped barrier island ecosystem in the state, the sandy necklace of New Jersey's park system. The island's dunes remain virtually untouched since the first written accounts of New Jersey's coast were penned during the voyage of Henry Hudson's "Half Moon" in 1609.
The park officially opened in 1959, largely from land purchased from Henry C. Phipps, a partner of industrialist Andrew Carnegie. The state wanted to preserve an area of the rapidly developing shore for swimming, hiking and fishing.
Now a peninsula, the area that was Island Beach was once cut off by an inlet, believed to have been located in the area of present-day Ortley Beach. The inlet was closed off by the natural drifting of sand in the early 1800s.
Fishing has been popular on Island Beach, long before it was a park. Stripers, fluke, bluefish, kingfish, and blackfish are just some of the species that can be hooked, depending on the season. Access for people with disabilities is available.
The Nature Center contains multiple exhibits on the Barnegat Bay watershed, shells and various animals found around the park. One of the several self-guided trails on the island, the Johnny Allen's Cove Trail, starts near the center and provides and introduction the park's varied ecosystems. The Spizzle Creek Bird Blind Trail gives visitors the chance to see ospreys or wading birds from a bird blind.
History lovers can take the Time-Travel Trail hike, which offers glimpses of the past on a walk to the site of the Reed's Hotel, fancied by 19th century sportsmen hunting waterfowl on Barnegat Bay. On Island Eco-Hikes you may see countless fiddler crabs burrowing into marsh mud or perhaps catch a glimpse of diamondback terrapins (New Jersey's only saltmarsh turtle), a fox, or even seals basking on marshy hummocks.
SOURCE:
http://www.nj.gov/dep/daw/islandbeach/