New Jersey Audubon Society
is offering first looks at
Petty's Island
, which was preserved as a natural area in 2009 but is not yet open to the general public.
Petty Island is currently uninhabited, the last residential structure having burned down in 1964. It was subject to industrial development in the 20th century, and is owned by Citgo, which uses the island for fuel storage. The western end of the island is undeveloped and forested. It is the fourth-largest island in the Delaware River's path.
Environmental groups have opposed any development on the island which has become an oasis for birds and other wildlife, including a pair of American Bald Eagles living on the island.
Venezuelan President Hugo Chávez announced in April 2009 that the Venezuelan Government (owner of CITGO) will donate the Island to New Jersey for environmental developments. Petty Island is officially part of Pennsauken Township.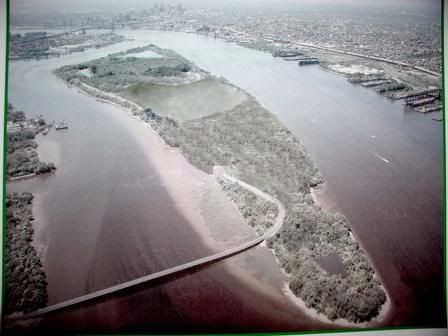 A view of what the future Petty's Island could be: a wildlife reserve of forests,
wetlands and meadows. A green oasis in one of the most developed areas
in the United States
The island tours are free, but registration is required. Please call the
Rancocas Nature Center
at 609.261.2495; no emails please. Access to the island is limited to these field trips, so sign up today!
All Petty's Island Field Trips meet at the island. Directions will be provided upon registration. Facilities on the island are limited, so please plan accordingly.