It only takes a few crisp and cool morning and nights to make us feel like autumn. Officially, the season arrives on September 23 but natives know that there will still be a good number of hot days remaining mixed in with the cool ones.
All across the northeast people go on fall foliage walks, hikes and drives. Trees change color based on several factors but temperature and rainfall are critical. We had a very dry summer which doesn't help us have a long and colorful fall. But it is quite localized. For example, trees at higher elevations turn color before ones at lower elevations.
There are websites to track the color change from Maine heading south but Leaves usually change color starting from Maine and working their way south. The average peak color in NJ is usually listed as October 19 – 29, but that's as accurate as the first and last frost dates - just an average. The foliage is sometimes peaked in North Jersey when it is just starting in South Jersey.
But it is a good time now to plan a foliage excursion.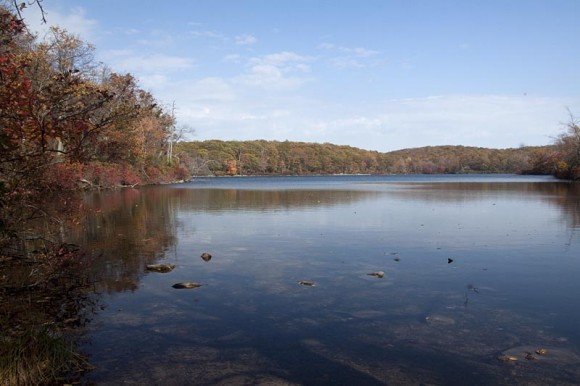 Sunfish Pond – Delaware Water Gap
If you are into hiking or even just a decent walk in the woods, the
www.NJhiking.com
website is probably the best source of information.
Their
interactive trailhead map
can lead you to some
foliage hikes in your area of NJ
and they also have a
Foliage Report Archive
.
For example, you can get some wide views of rural Northern New Jersey from Sunrise Mountain and along the Appalachian Trail as it follows a ridge if you
hike Sunrise Mountain
.
The foliage is great along the Black River (trees near water usually turn earlier) in the small, easily hiked and very popular
Hacklebarney State Park.
A short but very steep hike up
Mt. Tammany
will give you a terrific view of Mt. Minsi on the Pennsylvania side of the Delaware Water Gap and nice panoramas of the area.
Best Easy Day Hikes New Jersey
has a good selection of easy day hikes.