28TH ANNUAL PINELANDS SHORT COURSE
Hosted by Stockton University
A day long event featuring educational presentations that explore
the unique history, ecology, and culture of the Pinelands.
5 Professional Development Credits Available for Educators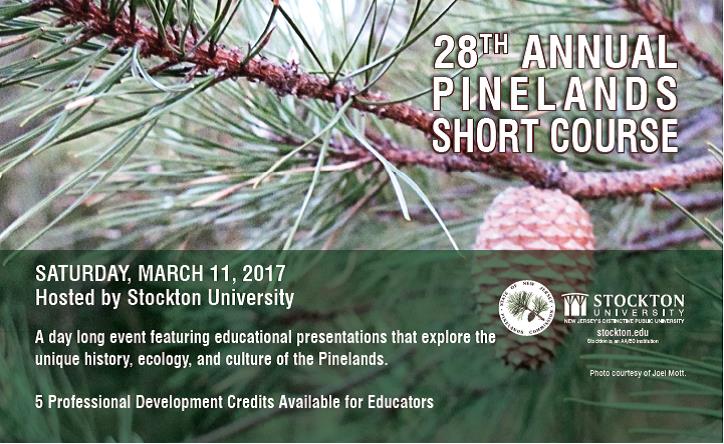 Three on-campus outdoor field courses include one on identifying bird species, a tour of Stockton's campus forests, and a look at biodiversity hotspots on the school's campus, a university spokesperson said.
The Mullica River tour will be 2½ hours, and will include stops at various watershed habitats.
Atlantic County history, and the Leeds family will play a big part in this year's event, held March 11 at Stockton University in Galloway Township, said commission spokesman Paul Leakan.
Norman Goos will tell the story of 1st Lt. Jeremiah Leeds, a key figure from a colonial family that owned almost all of what is known today as Atlantic City. Goos is President of the Col. Richard Somers Chapter of the Sons of the American Revolution.
Brian Regal, a Kean University assistant professor of the history of science and medicine, will discuss the origins of the story of the Jersey Devil, and how that story evolved from the politics of early colonial Atlantic County, said Leakan. Legend has it the "monster" was born to the same Leeds family.
The Pinelands Short Course provides a venue for the commission to educate the public, which is part of its mission. More than 1,400 people have attended the course in the last three years alone, said commission Executive Director Nancy Wittenberg.
There will be 38 presentations to choose from, covering a wide variety of ecological and cultural topics, according to the commission.
President Harvey Kesselman said the university is pleased Stockton faculty will share their knowledge at the Short Course. They include forest expert George Zimmermann, entomologist Jamie Cromartie, river expert Claude Epstein, professor emeritus, and birding expert John Rokita.
New courses include:
Coyotes in New Jersey;
the Fungi Kingdom and its Importance to the Pinelands;
Raptors and Reptiles in the Pinelands (with live animals);
The Life Story of 1st Lt. Jeremiah Leeds, a "Piney" who once owned almost all of what is now Atlantic City.
An overview of insects' roles in the Pinelands;
the geologic and land use history of Pinelands rivers;
a virtual field trip of the rivers and streams in the Barnegat Bay watershed;
the Lenape and their use of the region's environment;
honey bee rescue.