Almost 4,400 trout will be stocked in New Jersey next week, and 325 landlocked salmon were introduced into Merrill Creek Reservoir last week, providing more great fishing opportunities in the state.
The trout, measuring 14-18 inches, will be stocked in 18 waters throughout the state on Monday and Tuesday.
The salmon were stocked in Merrill Creek Reservoir in Warren County last Thursday.
Native to eastern Canada and Maine, landlocked salmon are closely related to Atlantic salmon and are nearly identical in appearance. Unlike Atlantic salmon, which migrate from saltwater to spawn in freshwater streams, the landlocked salmon has adapted to spend its entire life cycle in freshwater. Landlocked salmon have been successfully introduced to suitable waters outside their native range, including New Jersey, New Hampshire, Vermont, Massachusetts and New York.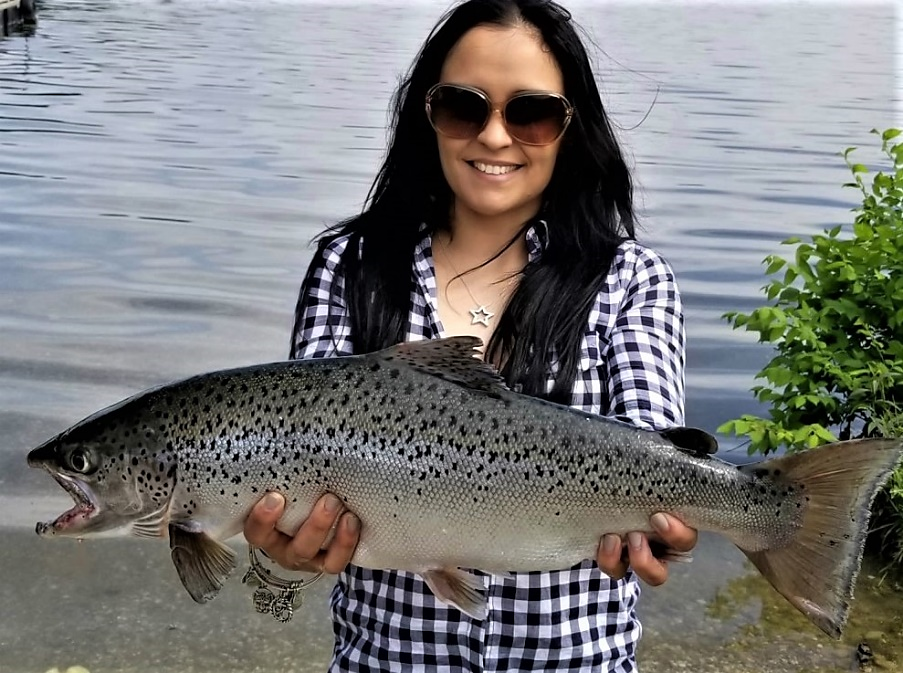 Runelvy Rodriguez of Northvale shows off her state record 25 3/4-inch landlocked salmon,
caught June 2, 2018 in Lake Aeroflex
Landlocked salmon were once privately stocked in New Jersey around 1950. The state launched its current stocking program in 2006, with stockings at Lake Waywayanda in Waywayanda State Park and Lake Aeroflex in Kittatinny Valley State Park. The program expanded to Tilcon Lake in Allamuchy Mountain State Park in 2014.
The Massachusetts Division of Fisheries and Wildlife provides free surplus fingerlings to the New Jersey Division of Fish and Wildlife, which rears them in the Hackettstown Fish Hatchery until they are ready for release. In return, New Jersey has given Massachusetts surplus northern pike.
For information visit the following links: