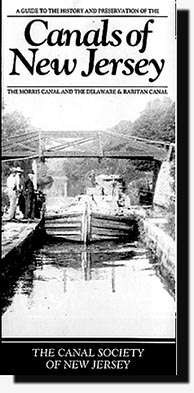 The Canal Society of New Jersey
is a non-profit organization formed in 1969. They foster the study of the history of New Jersey's two towpath canals. They also work to preserve and restore canal remains and artifacts, and educate the public in this history.
The public is invited to a free celebrations of the 19th century canal village of Waterloo, hosted by the Canal Society of New Jersey at
Waterloo Village
.
UPCOMING EVENTS
Saturday, Sept 12 Waterloo Heritage Day
Saturday, Sept 26 Waterloo Heritage Day
The Canal Society and the Division of Parks & Forestry also will co-sponsor Heritage Days two October Saturdays - October 10 and 24
Their Annual Canal Day includes:
* mule-towed boat rides,
* live period music,
* food,
* guided tours of the village by an architectural historian and of Morris Canal-related sites and the Canal Museum,
* a blacksmith plying his trade,
* a 19th century canal boat captain telling tales of life on the canal,
* exhibits on the Morris Canal Greenway and the Sussex Mine Railroad,
* tours of the Waterloo United Methodist Church
Waterloo Village
was turned over to the Division of Parks & Forestry on January 1, 2007, after many years of management by a private foundation. Since then, structural repairs have been made and buildings re-roofed, the Lenape Village has been rebuilt and expanded, and a Preservation Plan was completed.