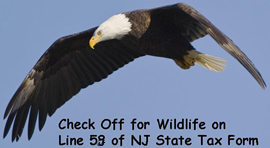 The Endangered and Nongame Species Program is responsible for protecting and managing nearly 500 wildlife species, including 73 species currently listed as endangered or threatened. When I have talked to groups about the program, one thing that always surprises people is that
it is funded almost entirely by the state income tax check-off donations and through sales of the distinctive Conserve Wildlife License Plate.
Imagine running a program by relying on people to contribute when they are paying their taxes!
You can help protect New Jersey's bald eagles and all other rare wildlife by supporting the New Jersey Endangered Wildlife Fund when you file your state income tax this year. Jusst look for Line 58 on your NJ 1040 income tax return, and check-off for wildlife or remind your tax preparer that you want to make a contribution.
Every dollar you donate goes directly to the DEP's Endangered and Nongame Species Program
, enabling biologists to continue their work to restore, conserve and enhance New Jersey's populations of rare species. What's more,
your contribution is matched with an equal amount of federal funding
, further strengthening efforts to protect hundreds of imperiled species.

The bald eagle used on the images above is the best example of a species on the brink of extinction in NJ. In 1979, there was just a solitary nesting pair. Residues of the pesticide DDT from the 1950s and 1960s were still causing thin, fragile eggshells that crushed under the weight of the adult eagles.
But volunteers and Endangered and Nongame Species biologists, plus a ban on DDT and other pesticides, has allowed the bald eagles to make a steady comeback over the past three decades.
In 2011, there were 113 nesting pairs and 119 fledged chicks and a January 2012 bird count found well over 300 eagles making their homes in New Jersey.
The Delaware Bay region of Cumberland and Salem Counties' expanses of coastal wetlands provide plentiful fishing grounds, and the species is expanding northward. The nesting range now includes 18 of New Jersey's 21 counties.
They are still an ususual sight for most New Jerseyeans. A bald eagle perched in a tree directly above busy Route 202-206 in Bedminster, Somerset County, created a minor traffic jam recently as motorists stopped and pulled out their cameraphones.
And don't forget our secretive bobcats that were reintroduced 30 years ago and are now living in the northern third of the state.
Peregrine falcons - the fastest of the world's birds - disappeared from New Jersey in the 1960s, but a reintroduction project and intensive management have resulted in a stable population of about 20 nesting pairs, including some in major cities.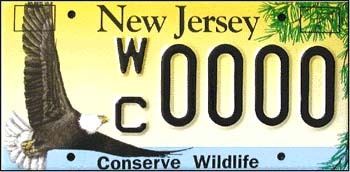 If tax time isn't the right way for you to help out, how about "driving home" the conservation message showing off your commitment by
purchasing a $50 Conserve Wildlife license plate
? More than 80% of your payment, or $4 out of every $5, goes directly toward preserving our state's endangered wildlife. That's crucial, because the New Jersey's endangered, threatened and nongame wildlife protection program receives no dedicated state funding and must depend completely on contributions from the general public.
For more information on New Jersey's endangered and threatened species, go to
www.nj.gov/dep/fgw/ensphome.htm
. This webpage includes information on how to help these species through both the tax return check-off and Conserve Wildlife license plates.