As a followup to last Friday's post on nature's own calendar, here's more information about a program to which you can contribute your observations. Volunteers who take part in Project BudBurst, track climate change by recording the timing of flowers and foliage in their own local area.
The project started as a pilot program in 2007 operated by the University Corporation for Atmospheric Research (UCAR), the Chicago Botanic Garden, and the University of Montana. They are collecting thousands of observations from students, gardeners, and others to give researchers a more detailed picture of our warming climate. It's crowdsourcing data collection.
There's lots of information on the project site and at the links below, but here are some basics:
Each participant in Project BudBurst selects one or more plants to observe. (The project website suggests more than 75 widely distributed trees and flowers, with information on each and you can add your own choices.)
You start by checking your plants at least a week prior to the average date of budburst (the point when the buds have opened and leaves are visible).
After budburst, you continue to observe the tree or flower for later events, such as seed dispersal.
When you submit records online, you can view maps of these phenophases across the United States.
One category is "Deciduous Trees and Shrubs" (such as oak trees, as opposed to evergreens). The Project lists 28 deciduous trees and shrubs that are easy to identify and widespread across the continental United States. You can get a printable identification guide and phenophase field guide online with pictures, identifying characteristics, and plant specific phenophase descriptions.
One that I did last year and will do again is that harbinger of spring, the
forsythia
(
Forsythia xintermedia
).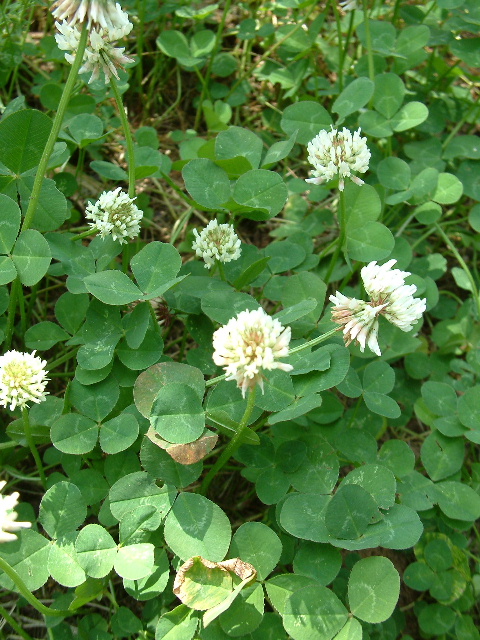 Maybe this spring when white clover pops up in your lawn, instead of battling it, you can observe it.
Did you know that it is in the plant family of the pea or legume (
Fabaceae
)?
Trifolium repens
, like other members of the pea family, fix nitrogen. This makes clover an important agricultural and rangeland plant—by planting it with grasses it is possible to increase the grass yield. Clover leaves and flowers are also good forage for wildlife and it is used widely by bees to produce honey.
I like both the scientific side of this, and becoming mindful of the natural world around you.
I recommend you take on this easy citizen scientist project in your own little part of the world. You can certainly do it for yourself, but sharing the information with the Project really adds another level of awareness.
MORE INFO