Great Swamp, NJ Photo: www.fws.gov/northeast/greatswamp/
Wilderness is a haven from the pressures of our fast-paced society. They are places where we seek relief from the noise, rapid pace and crowds that often confine us. New Jersey has fewer places that might qualify as "wilderness" than the western states, but we still have large areas, such as the
Pinelands
or the
Great Swamp
, that offer opportunities for outdoor recreation.
In wilderness, we can walk and hike, watch wildlife, camp, fish and many other activities. This kind of recreation in the wild has countless proven benefits to our health and well being. And stil, we know that each year as we grow more and more connected through technology, we grow less and less connected with wilderness.
The Wilderness Society
is a leading American conservation organization that works to protect our nation's shared wildlands.
Protected wildlands give us:
Clean air and water,
Abundant wildlife,
Havens for recreation, solitude and learning,
Important sources of renewable energy,
Vital natural resources that must be managed wisely, and
A foundation for a healthy planet.
This video offers a glimpse into The Wilderness Society - from its history, to its new campaign
to reconnect Americans with their wild places on public lands. Narrated by Edward Norton.
As we become a more urbanized society with growing needs for space and energy, we often turn to wilderness as a resource. Yet, wilderness is not just a resource to be developed. It has many human, natural and economic benefits that we need to protect.
Wilderness belongs to you
As Americans, we own 618 million acres of American wildlands -red-rock canyons, turquoise rivers, desert plains, mountain peaks, Arctic tundra, southern wildflower fields and cool northern forests. But not all federal wildlands are "wilderness."
Wilderness is a type of protection given to the most pristine wildlands — areas within national parks, forests, recreation areas and other wildlands where there are no roads or development. This officially designated wilderness is the last remnant of the wild landscapes that once stretched from coast to coast.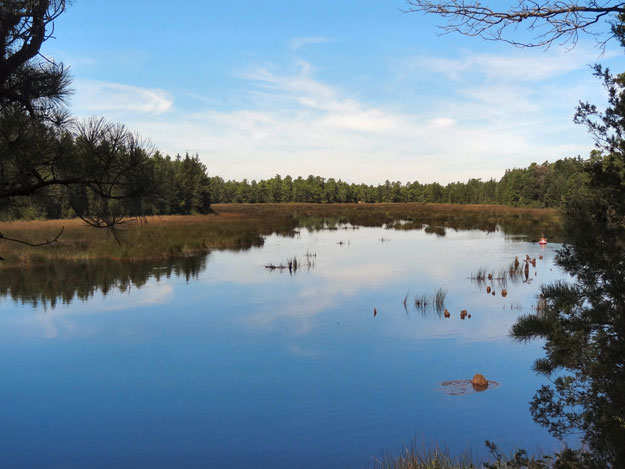 Batso, Pine Barrens, Photo: www.nj.gov/dep/
Today, only about 110 million acres of true wilderness remain as part of the 618 million acres of federal wildland. That is just one of the
issues that the Society addresses
.
Of course, wilderness is also vital habitat for wildlife to live and for migration routes and breeding grounds. Fragmented and developed wilderness areas often threaten species populations. Designated wilderness areas make it possible to ensure the protection of species.
It also makes economic sense. Wilderness areas contribute to the local economy, especially in the rural communities that surround them. Outdoor recreation contributes more than $646 billion annually to the economy, supports 6.1 million jobs and generates nearly $80 billion in federal, state and local taxes.
Wilderness areas protect watersheds that provide drinking water to many cities and rural communities.
They help improve the quality of our air.
Since the Wilderness Act passed in 1964, Congress has designated nearly 110 million acres of federal wildlands as official wilderness. Official wilderness has the highest form of protection of any federal wildland. Today, about 235 million acres of federal wildlands have been permanently protected as wilderness, parks, refuges or other protected areas. But that's only a third of our public lands. About 100 million acres of pristine wildlands are still at risk. These wildlands could qualify for future protection, but the window of opportunity is closing fast.