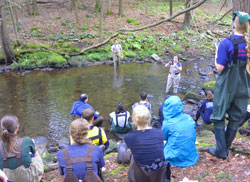 The NJDEP is seeking recruits for its AmeriCorps New Jersey Watershed Ambassadors, a program that engages communities to protect and improve water quality. Watershed Ambassadors are the DEP's facilitators in the field, collecting water quality information, giving presentations on clean water and championing partnership projects in which the public help make a difference in their communities.
New Jersey's waters are a valuable and vulnerable resource. The AmeriCorps New Jersey Watershed Ambassadors Program plays an important role in raising awareness of how human activities can affect water quality, especially in the most densely populated state in the nation. Each year, a new group of 20 Watershed Ambassadors engage with community members, channeling awareness into action.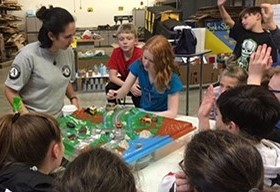 The program is now in its 18th year and is administered by the New Jersey Department of Environmental Protection, Division of Water Monitoring & Standards. The goals of the program are to promote watershed stewardship through education and direct community involvement, and to monitor stream health through performing visual and biological assessments. Individual AmeriCorps members are assigned to each of New Jersey's 20 watershed management areas (WMAs) to serve as "Watershed Ambassadors" to their watershed communities.
Info on the Watershed Ambassadors Program
More info in DEP news release