Guided walks in the Hidden Valley area of
Higbee Beach WMA
are being offered monthly by
NJ Audubon
in cooperation with the NJDEP Division of Fish and Wildlife.
The Higbee Beach Wildlife Management Area is important for its value to endangered, threatened and nongame wildlife.
This Cape May peninsula hosts one of the world's largest migrations each fall as millions of birds stop at the peninsula seeking food, cover and water. Higbee Beach plays a vital role in the migration, providing migrants with a stopover site as they increase their fitness before continuing their sojourn south.
The roughly 1,100-acre area offers a unique blend of several different habitats, including dune, forest, scrub-shrub and early successional fields. The Endangered and Nongame Species Program, in cooperation with the Bureau of Land Management, manages the fields and scrub-shrub areas for migrating songbirds and raptors.
There are two new viewing platforms that have been added to the nearly 2 miles of nature trails at the area. The platforms, which offer spectacular views of the field and forest canopy, feature educational signs on migration and habitat.
A a new dune trail which runs through forested dunes with views of the expansive Delaware Bay was added in 1999.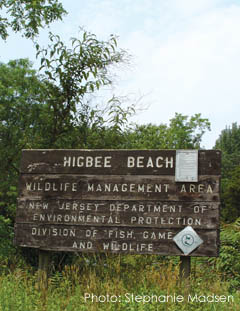 Higbee Beach is comprised of six different locales: Signal Hill, Davey's (or Davis) Lake, Pond Creek, Sassafras Island, Hidden Valley, and the Magnesite Plant.
Hidden Valley's mix of varied habitats hosts a diversity of birds which may be encountered, including sparrows, hawks, waterbirds, and even the possibility of an owl.
According to
capemay.com
, Hidden Valley was once a 92-acre farm between Bayshore Road and the Pond Creek Marsh. The Dickinson family, preferring it be preserved rather than developed, sold it to the state in 1986. Part of the acreage is known as Hidden Valley Ranch, and is leased for equestrian activities. The fields, trails and swamps are well known to birders.
The next scheduled walk is Sunday, January 8 at 4:00 p.m.
If visiting during the fall migration, it is suggested that you go following a cold front with northerly winds. All you need is a set of binoculars and ID books.
In warmer weather, Higbee Beach is also home to lots of dragonflies and butterflies, including the long-distance migrant - the Monarch butterfly.